The for-profit substance abuse market is changing, and providers need to be prepared. From value-based reimbursement to multiple-payer clinical outcome requirements, you need to be able to collect, analyze, and report accurate data to stay compliant and receive the greatest reimbursements owed.
The right EHR can help you navigate many of these changes. But how do you know that you are choosing the right EHR? If you've already invested in an EHR system, how can you make sure you're using it effectively? Here's what to keep in mind.
Start with the basics
Buying an EHR is a lot like buying a house. When you're shopping for a house, you can assume it will have a few basic features. For example, even the smallest, simplest house will still have four walls, a roof, and a door. 
Buying an EHR is somewhat similar. There are basic essentials and nice-to-haves. Those basics include:
Providing high-quality, accurate data

Web-based and hosted in the cloud

Easily accessible training and user education

Reasonable implementation period

HIPAA privacy and security compliance

24/7 End user support

A clear user support service level agreement

Documented uptime guarantees 

Secure, reliable data storage, backup, and upgrades

The ability to share client health information securely
The EHR you choose should work for the healthcare providers so they can work smarter, not harder. Providers should be able to spend more time with clients without a decrease in reimbursement thanks to the efficiencies put in place by their EHR.
The right solution should improve productivity, aid communication, keep an organized client record, support disease best practices, enable better decision-making, and meet licensure and accreditation requirements. If your team is struggling to achieve these, it may be time to rethink your current approach.
Core Process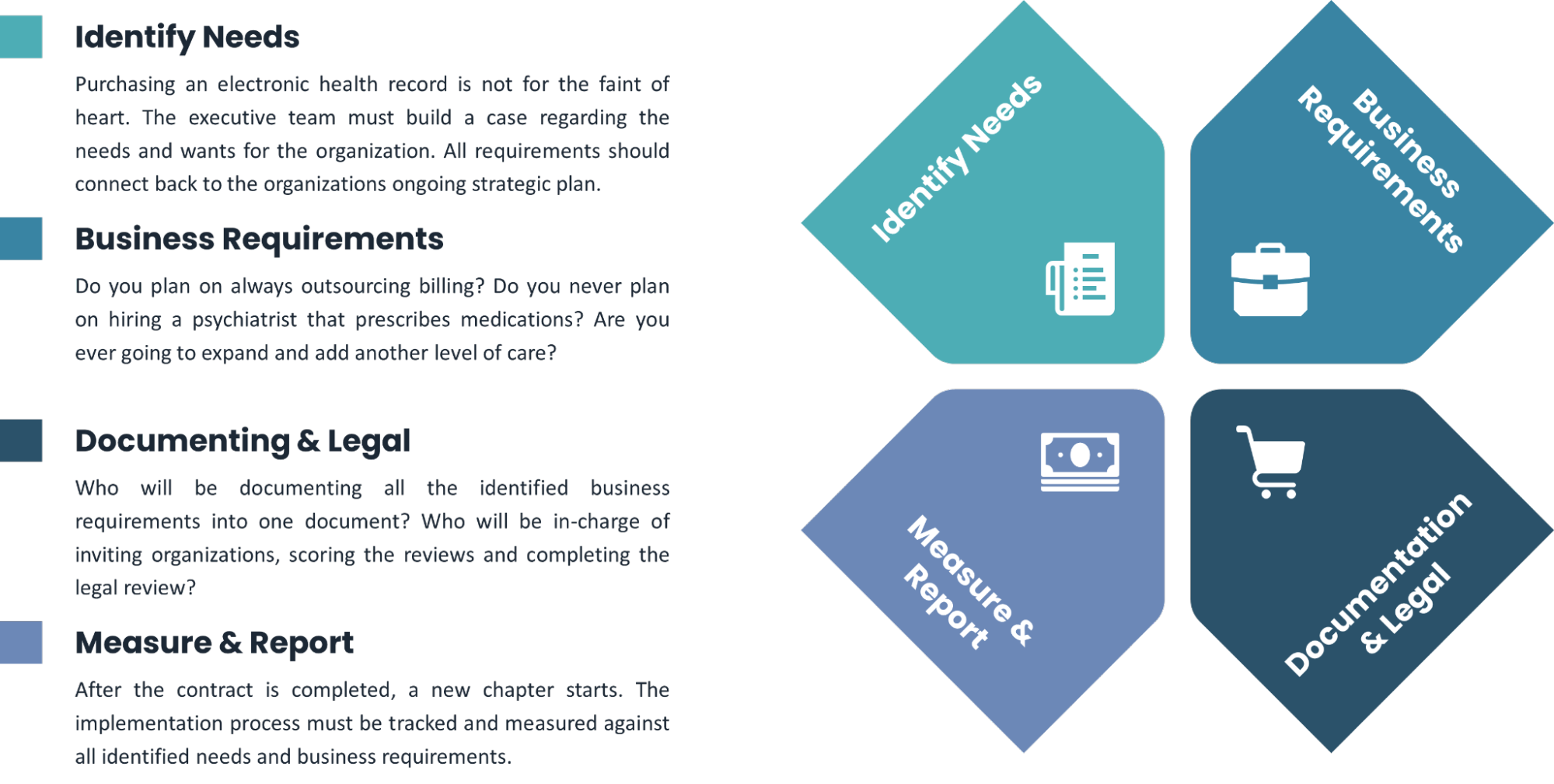 Make sure your vendor has a plan
Your EHR vendor should have a well-defined road map for the future. They should be prepared for industry and regulatory changes, as well as changes within your own organization. Your vendor should be planning on these changes well before they are required. 
The EHR you use should offer a good return on investment (ROI). Understanding the ROI takes work from both your vendor and your organization. Ask your vendor for insights or data that can demonstrate your ROI with their product. Take the initiative to understand how the EHR actually fits into your process, and request a thorough demonstration of the product to make sure it is indeed the right fit.
Product Road Map

Get to know your support team
If you have questions or need troubleshooting help, your EHR vendor should provide a great support team to guide you through it. Make sure you know what that support includes, and where it is coming from. For example, if your support team is located in a different time zone, make sure they can still help you when you need it. If the support team is located in a different country, make sure they understand your specific needs, including regulatory or licensing requirements. 
This doesn't mean you should automatically dismiss a vendor based on their location. However, it does mean you should be confident that they understand your niche and are prepared to deliver on your practice's unique needs, no matter where the vendor and its support team are located.
Application Support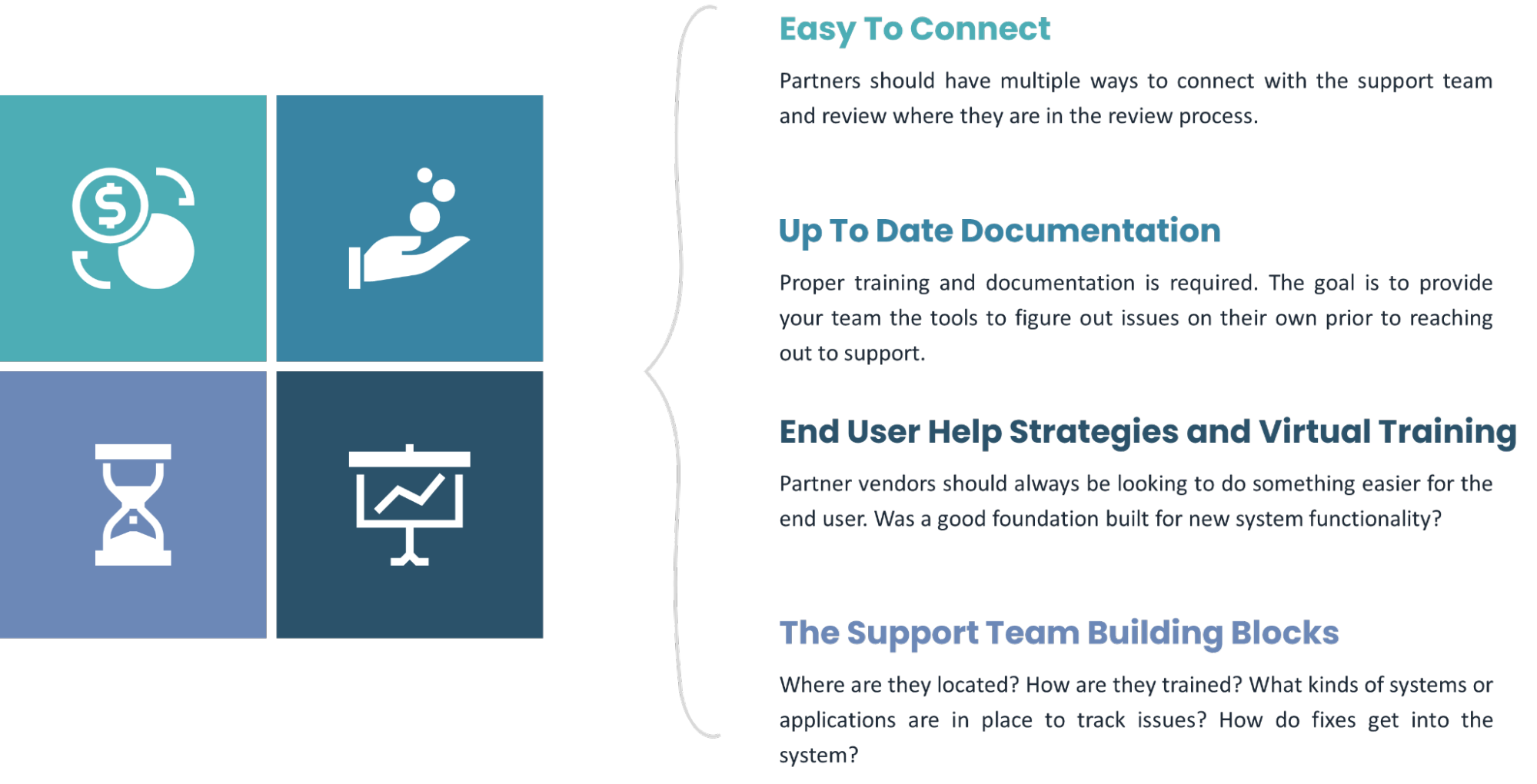 Be honest about your needs
When you shop for a house, many of them have the basics but don't have other things you need. The house might have faulty wiring or plumbing, or poor insulation. It might have features that would better suit someone else. If you have mobility issues, a smaller ranch style would serve you better than a three-story mansion. If you love to cook and entertain, you might want a spacious kitchen and a large patio.
Just like with a house, choosing the right EHR often comes down to the details. The software might have a lot of great features, but those features may not serve your needs. 
Make sure you understand how your organization will utilize the EHR so you can use it properly. This means you and your team should be honest about your current work process, and thoroughly research any EHR options to choose one that won't go to waste.
If you have already purchased an EHR system, make sure you're getting the most out of your investment. Sometimes the right EHR may not seem like it if it isn't used to its full potential. Users may think an EHR is incapable of a particular task, such as billing or data analytics, when it is actually being used incorrectly.
Be sure to analyze the available data: from the EHR, from surveys, and from any additional technologies that your providers use daily. Then, examine any unmet needs and areas that need improvement. Review these issues with project teams and leaders to create a plan for resolving them.
Avoid having unrealistic expectations of an EHR. If your existing workday processes are inefficient or dysfunctional, an EHR will not provide a magic solution. Make sure your organization is happy with your own workflow before you bring in a new EHR. Once you have a better understanding of how your organization functions and what it needs, it makes all your other decisions better.
Going paperless and using an EHR correctly takes the right mindset—it is a journey, not a destination. Organizations should commit to doing the work necessary to get the most out of their EHRs. This may take significant time and effort, but it will pay off and make life easier in the long run.
Whether you're shopping for a new EHR or struggling to get the most out of your current system, we can help you capitalize on your investment.